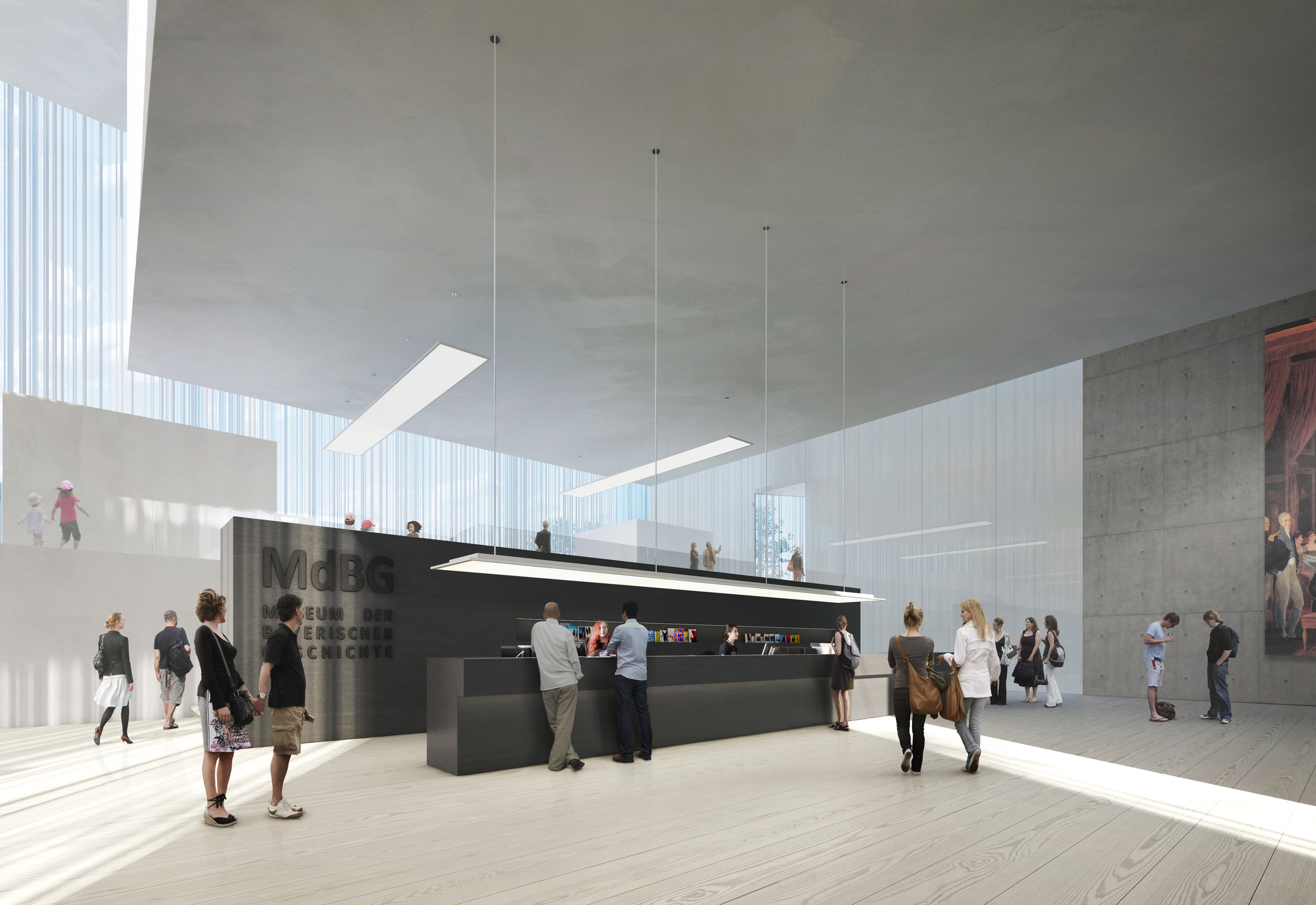 MUSEUM DER BAYERISCHES GESCHICHTE
Client: Museum of Bavarian History
Location: Regensburg, Germany
Scope: Museum
Area: 9,800sqm
Stage: Competition
Architect: Studio Seilern Architects
Structural Engineer: Eckersley O' Callaghan
Envirommental Engineer: Atelier Ten
Landscape Architect: Gustafson-Porter
Theatre Consultants: Charcoal Blue
Instalations Consultant: Jason Burges
The Museum der Bayerischen Geschichte (Museum of Bavarian history) site is in a unique location in a historical city, a UNESCO World Heritage Site. The brief for this project was to create an interactive bridge between Bavaria's past and future by a careful insertion of a new exhibition hall into the centre of the historical city.
The project was rooted in four main architectural concepts: to repair the city's historical fabric, to create a facade that interacts with passing pedestrians and boats, to produce a naturally lit exhibition space and to overcome the 'block effect' of one large new building.
The aim was to create a building form that relates to its surroundings: 4 simple rectangular boxes of varying heights and widths. This not only had the benefit of avoiding a single structure but also created the visual effect of elongating the waterfront façade, keeping in line with the city's urban fabric.
The rectilinear boxes are arranged in a seemingly random manner, creating a large vibrant public space at the front where the weekend market can take place, as well as providing a more intimate public square at the entrance of the Museum.
A museum traditionally is a public institution that only interacts with its visitors once they are inside. The concept challenges this by allowing the museum building itself to communicate with both market goers and boat passengers. It has a structural glass façade encased in glass and aluminium tubes of varying sizes, these can be transformed with lighting to adapt to the activities occurring within its inner and outer environments. The concept aims to provide the city with an accessible and translucent museum, where visitors can walk around in the natural light or enter enclosed exhibition spaces. From the outside these exhibition spaces resemble floating boxes within the semi-transparent envelope.